Helping you find the value of your vintage guitar
Free guitar values online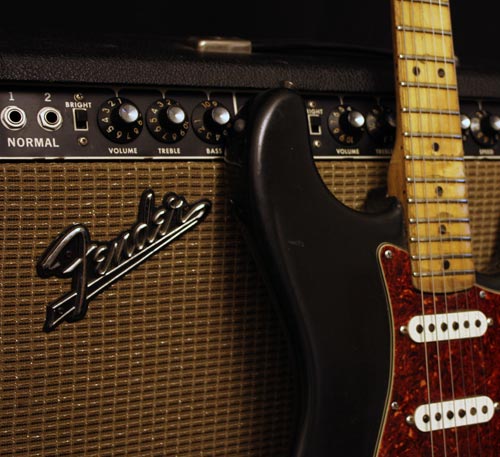 Photo
John Tuggle
There are three main ways to get a vintage guitar valuation: buying a vintage guitar price guide, paying for an appraisal, or doing your own free research. This page is all about the free research you can undertake; you can usually find free guitar values online if you are prepared to search around a little. But first, a quick reminder of the alternatives:
Buy a book - cheap, but not free
The simplest method, is to buy the book of values. See our page on vintage guitar values. Probably the easiest way, especially if you don't want to spend time researching vintage guitars, or have several guitars you need to look up. A small amount of knowledge of the guitar in question is required, the brand, model, age and condition.
Get an appraisal - expensive, but authoritative and accurate
Unless you have a 1950s Les Paul, or other seriously valuable instrument, finding an appraiser and paying for an appraisal is perhaps not worth the effort or expense. They usually require an examination in person, that can take some time. Fine if you live in a big city with a vintage guitar dealer. Not so easy otherwise. Ballpark values for most vintage guitars can be found by buying a book, or doing some digging online. If, of course, you need a certificate for insurance purposes etc you may have no other choice. If you know absolutely nothing about guitars at all and have no time to learn, this may also be the best option for you.
Getting a free guitar 'appraisal' online is not usually possible, but sometimes you can get an unofficial valuation by sending pictures to a vintage guitar website, or uploading to a social media group, although many ban this for all but paid members. You will, or course get no supporting paperwork, but you will at least get an indication as th whether a paid appraisal is worth pursuing. The members of this vintage guitar forum do sometimes give free (but approximate) valuations for American and some European vintage guitars if sufficient images are provided.
---
Finding free guitar values online - how to research a vintage guitars value
Have you got 15 minutes spare? Good, as long as you know what your guitar is, you can probably get a number of vintage guitar valuations for free. This method goes back to the idea that an item's worth is the amount you can get somebody to pay for it. And this is where ebay, Reverb and other sales sites comes in. These sites offer data on previous sales, which is the best source of free vintage guitar valuations. There are a few caveats to be borne in mind, but these sites offer the best opportunity to find free guitar values online.
For sale items on ebay
Vintage guitar dealers regularly list old guitars on ebay with a fixed price significantly above their 'values', then invite bids, often selling lower than the price advertised. The site is often used as an advertising tool by sellers, trying to entice you to their stores or websites, but also covering ebay and paypal fees with their increased prices. Likewise other sellers start bidding at $1 and let the bids continue until a final value is reached. The truth is these auctions usually end at a far lower price than the dealers fixed price, even for a more or less identical item.
Ebay completed sales data
You've probably already looked at items for sale, but did you know you can look at completed listings also? Luckily ebay provides these values, but only for recently completed listings; an excellent tool for finding real and recent vintage guitar prices online. Check out the completed guitar listings on ebay. Prices in red did not sell - maybe these were listed above their actual values, maybe there was just no buyer - prices in green did sell. Type an extra search term in to filter the results. Most not-too-rare vintage guitars will be listed, and a ballpark figure gleaned. The great thing about ebay's completed listings is you can go and look at the item, and get a good idea of condition. Clearly the final sale price, to some extent, reflects the guitars value, probably more accurately than the unsold fixed prices of the dealers, but in truth most of these guitars could have gone a little higher if sold in a bricks and mortar store. Ebay auctions can a little unpredictable, so the more often you check this page, the more accurate a value can be determined.
Reverb estimated price feature
Reverb has a searchable price guide that gives details of a range of values people have paid at specific times. If you sign up and log in you get to see specific transactions. Unlike the ebay completed listings, you can not click through and see the item, however, though the site does give a one word fair/good/very good/excellent description of condition. Reverb's suggested range of values, is certainly useful, but if you examine the individual transactions, many fall outside this range, with a number selling significantly below. Why these are not included in the listed range is unclear; it is certainly worth looking at the raw data.
Heritage Auctions
Heritage have a great reputation as an auction house, and have sold very many rare and interesting vintage guitars. If you sign up and log in, you will be able to see final sales prices for many guitars that are seldom listed. Like ebay, you can get to look at the guitar in question, however, these listings are not removed. Really useful if you are interested in a guitar that only comes up for sale every few years.
In summary:
ebay dealer prices these guitars are typically listed above notional 'value'
ebay completed sales typically reach a little under notional 'value'
Reverb estimated price range is useful, but be sure to examine the completed sales raw data
Heritage auctions is very useful if you are selling something a little special
---
What if my guitar is not listed?
There will be occasions when there is no record of a guitar amongst any of the data held by the websites mentioned above. If this is the case, the first thing to do is to check your spelling, and make sure the instrument can be found in a typical web search. If you are sure everything is correct, it may be that you have something quite rare indeed. Frankly, if this is the case, a free valuation is not appropriate for you, and you may be better off contacting a specialist. Good luck!
Final thoughts
Remember, all auction houses and guitar dealers benefit from high valuations when selling. As long as there are the super rich, these businesses can set their own prices on rare vintage guitars.
Vintage guitar values go up and down. A valuation from 2007 might be quite different from one in 2017